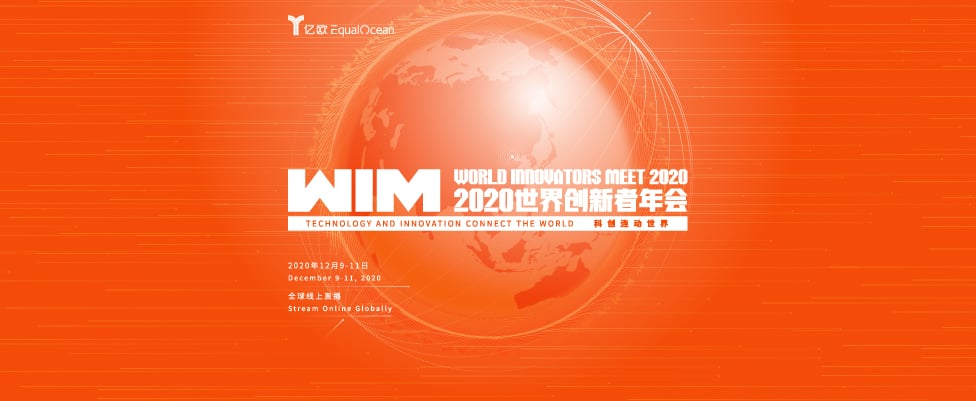 World Innovators Meet 2020 Official Launch
December 9, 2020
-
December 11, 2020
Hosted by EqualOcean, the World Innovators Meet (WIM) is a world-class event for innovators. It provides limitless opportunities to learn from and connect with the most sought-after technology pioneers. On December 9-11, 2020, this year's WIM2020 will take on a bolder stance and adopt a more global outlook by taking the form of an online conference that will be streamed simultaneously in all countries and regions that champion the realm of technology and innovation.
This year's theme is 'Technology and Innovation: Connecting the World', striving to portray the world's interconnectivity and interdependence, recognizing that the most dynamic change is driven by technology and innovation – and that a click of the finger will soon be all that is needed to connect anyone to anyone else in shared cyberspace.
During the three consecutive days from December 9-11, we will conduct 8 Themed Chapters on China and Asia-Pacific time zones, as well as 3 Global Chapters on American time zones, and European and African time zones:
8 Themed Chapters on China and Asia-Pacific Time Zones Include:
Technology and Innovation Leadership Chapter — Inviting a Nobel Prize winner in economics to analyze the changes in the new world economic order, the contingency of 'black swans' and the inevitability of great powers wrestling for dominance;
Technology Innovation Drives Value Investment — Discussing the core value of technological research and development capabilities, explore the correlation between tech innovation capabilities and corporate value;
Restarting the New Consumption in the Post-Pandemic Era — Discussing the changes of technology to the consumption and retail formats, the significance of retail tech during the epidemic and the long-term impact;
The Global Competition in Travel Technology — Among China's New Energy Vehicles (NEVs) and the autonomous driving in the wider world, players from different technological innovation and major automobile centers are using newer, greener technology to redefine travel;
Industrial Interconnection and Industrial Intelligence — Has the digitalized world really arrived? To what extent has technology reshaped China, a historically manufacturing-focused economy?
The Medical-Technology Industry in the Global Pandemic Context — The integration of technology and medical treatment is making more sophisticated solutions possible.
The Technological Charm of Real Estate — How to inject technological strength into concrete forms? How is the integration of industry and city development? What kind of future should the human living environment head toward?
FinTech is Reconstructing the Global Collaboration System — The traditional financial industry's network structure, with centralized credit entities at its core, is being reshaped. Subversion is taking place at the industry level, the upper international financial order and international relations level.
How to Register
This year #WIM2020 will take on a bolder stance and adopt a more global outlook by taking the form of an online conference. The conferences will reach all the countries and regions to connect with the most sought-after innovators and learn the latest innovation and technology trends.
Want to glean top insight from the Dean of the School of National Development at the Pekin University? Or learn about the Endogenous Theory first-hand through its originator, Nobel Prize Winner Prof. Paul Romer?
At World Innovators Meet, you will! Engage in this event and register here https://legacy.equalocean.com/wim2020/ticket2020